10 Restaurants to Try in Englewood, NJ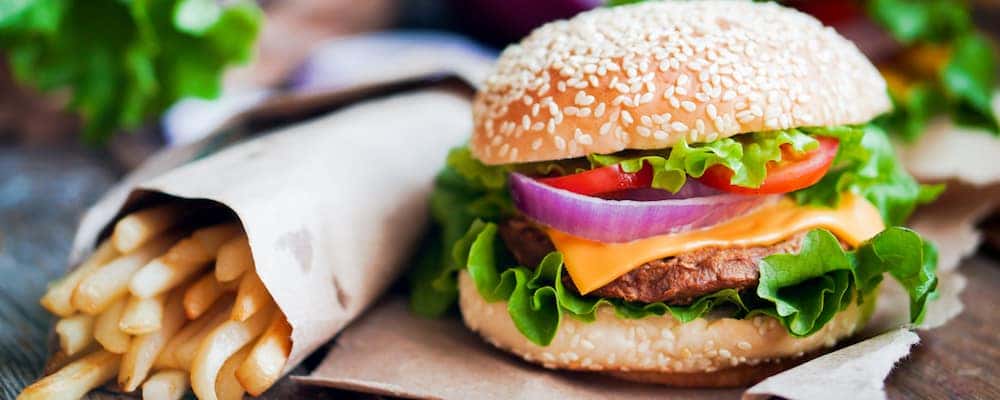 Looking for somewhere new to eat? Hungry after a long day of sightseeing? Here are 10 restaurants to try in Englewood, NJ, courtesy of Jaguar Paramus.
Jackson Hole: With more than 50 specialty burgers and chicken sandwiches on the menu, there's sure to be something for everyone at Jackson Hole. The restaurant also features Tex-Mex dishes and entrée-style salads.
Blue Moon Mexican Café: In the mood for Mexican food? Blue Moon Mexican Café is the place to go. The menu features original dishes like Mexican stir fry, carne arrachera, and a grilled burrito platter, along with Mexican staples, such as an array of taco options.
Syros Taverna: Named after a Greek island in the Cyclades, Syros Taverna serves authentic Greek cuisine that balances old world cooking techniques and modern interpretations of dishes. Menu options range from seafood to kebabs, with various Greek sauces available.
Noches de Colombia: Enjoy traditional Colombian cuisine when you visit Noches de Colombia in Englewood. Fresh-baked bread, soups, arepas, chicken and more are included on the menu.
Akai Japanese Sushi Lounge: If sushi is more your style, then Akai Japanese Sushi Lounge is for you. The restaurant offers a variety of traditional and innovative Japanese cuisine, as well as a full bar.
Jerry's Homemade: Visit Jerry's Homemade for a wine tasting (there are over 1,000 different labels in inventory) or to buy cake, cookies, or chocolate from the pastry counter. Make a selection from more than 600 different cheeses or the more than 60 different prepared dishes at the deli counter.
Biddy O'Malley's: Blending a classic Irish pub environment with contemporary American dishes, Biddy O'Malley's takes on a very unique personality. Enjoy locally sourced meals, as well as wine and craft beers.
Pintxo y Tapas: At Pintxo y Tapas, you'll enjoy authentic Spanish cuisine from the Basque and Galician regions of Spain, which specialize in fish, cured meats, and cheese. The romantic setting and extensive wine list make a meal here an unforgettable experience.
Sofia: Sofia is an Italian farm-to-table steakhouse that also offers creative cocktails, seafood flown in fresh daily, and housemade pasta.
Cassie's Pizzeria: Coal fired brick oven pizza is the name of the game at Cassie's Pizzeria. Every pizza is made with fresh mozzarella cheese, imported Italian tomatoes, extra virgin olive oil, and fresh basil.
Connect with Jaguar Paramus
Make sure to connect with Jaguar Paramus for more restaurant recommendations, vehicle maintenance before a road trip, and information on the latest Jaguar technology!
More from Jaguar Paramus
Just because you've got an electric car doesn't mean that luxury gets left out of the equation. For proof of that, look no further than the 2020 Jaguar I-PACE. The 2020 Jaguar I-PACE interior is the total package, combining the ample space befitting an SUV and a suite of luxurious amenities that you can expect…

Whether you opt for the new Jaguar F-TYPE Coupe or the new Jaguar F-TYPE Convertible, you're going to have a wide range of trim levels to consider. In order to make the right choice, you're going to need to take a close look at the 2021 Jaguar F-TYPE configurations, and that's where we come in. …

The 2020 Jaguar F-PACE color choices make it easy to customize your look, both inside and out. With nearly 30 paint colors and a bevy of upholstery materials, stitchings, and finishes to choose from, the Jaguar F-PACE color options ensure there's something to fit every Englewood aesthetic. Learn more about the 2020 Jaguar F-PACE colors…