How Long Does It Take to Charge an Electric Car?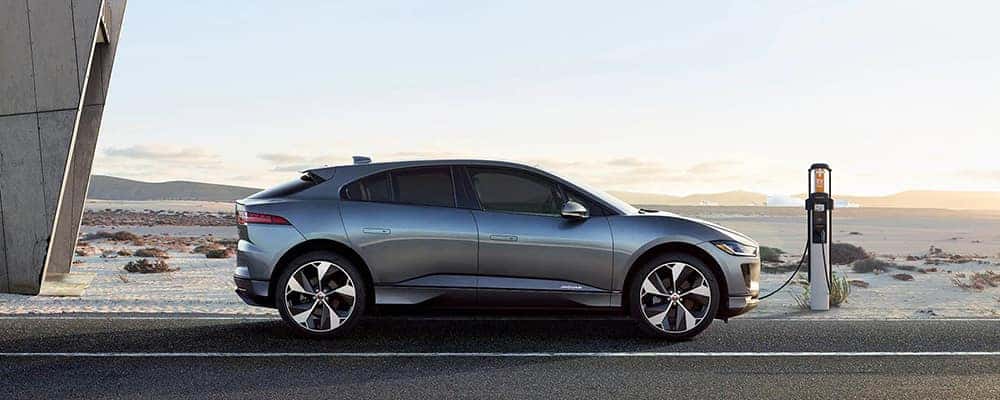 More and more Paramus drivers are opting for electric cars. Thanks to the Jaguar I-PACE battery capacity, our customers can expect an impressive range, a relatively short charging time, and the kind of comforts you've come to expect from a Jaguar automobile. How long does it take to charge an electric car made by Jaguar? You can get all the way to 80% in 45 minutes at a public charging station or in 10.1 hours at home.
How Long Does It Take to Charge a Jaguar I-PACE?
So, how long does it take to charge an electric car like the Jaguar I-PACE? That depends on how you charge your car. Jaguar I-PACE timed charging can be done using one of three methods: home outlet charging, Jaguar wall box charging, and public charging. The I-PACE charging time differs with each method.
Jaguar I-PACE Charging Time by Method
Charging with your home outlet – Using a 110V/120V found in most homes, the Jaguar I-PACE charging time is on the slower side. You'll only gain about 7 miles of charge per hour with this method, but if your commute is short and you charge overnight, it might provide more than enough power for your needs.
Jaguar Wall Connector – This method uses a charging box that is professionally installed in your home. With this method, you'll just need 10 hours to reach an 80% charge.
Public charging station – This is by far the fastest method. A 50kW will take about 85 minutes to get to 80%. A 100kW will take only about 45 minutes.
Jaguar I-PACE Battery Capacity
The robust Jaguar I-PACE battery capacity can give you a range of 222 miles when this model is fully charged. That's enough to get you anywhere you want around the greater Jersey City area and beyond.
How Do Jaguar I-PACE Charging Times Compare?
The Jaguar I-PACE is a uniquely luxurious option in the all-electric market, and we're confident that anyone who explores the Jaguar I-PACE interior and dimensions will come to the same conclusion. Still, many drivers want to know which Jaguar I-PACE charging times and battery capacity compare to those of its rivals. We've covered all the basics below:
Jaguar I-PACE Charging Times vs. the Competition
Jaguar I-PACE – Reach 80% in 10.1 hours at home or 80% in 45 minutes with public DC fast charging.
Tesla Vehicles – Go from 0-100% in 9.5 hours with Tesla Wall connector or from 0-80% in 30 minutes with Tesla-Exclusive Superchargers. However, most public charging stations can only add up to 25 miles of range per hour.
Chevy Bolt – You can charge up in just under 10 hours with a professionally installed 240V 32-amp charger. Or, reach 80% in under two hours at public charging stations
Nissan Leaf – Reach 100% in under 8 hours with a Nissan home charger, or get to 80% in 40 minutes at public charging stations
Jaguar I-PACE Traveling Range vs. the Competition
Jaguar I-PACE – 222 miles
Tesla Model X – 305 miles
Chevrolet Bolt EV – 238 miles
Nissan LEAF – 150 miles
If you're ready to take a closer look at the I-PACE, don't wait to check out its available configurations or find your favorite model in our inventory. While you're at it, find out how fast the I-PACE goes from 0 to 60!
Check Out the New Jaguar I-PACE at Jaguar Paramus
We make it easy for you to get behind the wheel of your next vehicle. You can even apply for financing online. Our dealership is conveniently located just a short drive from Ridgewood or Fort Lee, but you can also browse our entire inventory from the comfort of your own home! So,contact us today!
More from Jaguar Paramus
The 2023 Jaguar I-PACE price structure starts at $71,300* for new models, and in fact, this model is currently only offered in one trim level. For the cost, you get an excellent Jaguar warranty, a great selection of standard features for your Ridgewood drives, and an impressive electric driving range! All of this adds up…

If you're in the market for a reliable and luxurious SUV with plenty of towing power around Ridgewood, it's worth checking out the 2022 Jaguar F-PACE towing capacity. The Jaguar F-PACE towing capacity is rated at 5,291 pounds, providing plenty of power to tow anything from a small boat to a camper. Let's take…

The 2023 Jaguar I-PACE has an impressive range and a powerful set of electric motors, but these are not the only reasons that it's proved so popular with discerning drivers in Paramus, NJ. As soon as you step into the 2023 Jaguar I-PACE interior, you'll see exactly why this high-end luxury EV has made…