How Many Miles Do Tires Last?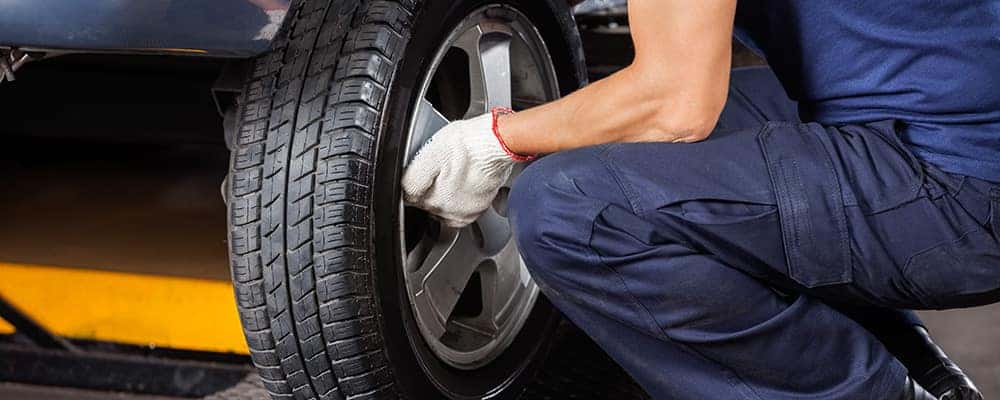 When you purchase a new Jaguar, you can expect its tires to last up to 50,000 miles, especially when you stick to the recommended tire service schedule. There are many factors that can negatively impact your tires' driving range, including road conditions, driving habits, and more. How many miles do tires last? Let's explore what affects tire life expectancy, and how you can extend the life and performance of your wheels in Paramus!
What Factors Affect Tires Life Expectancy?
Like any other vehicle component, tires experience wear and tear as they move. How much wear they incur can vary depending on a list of variables:
Type of tire: Fromhigh-performance tires to all-season tires, different styles have varying grip and rolling resistance.
Treadwear rating: Every set of tires comes with a treadwear rating, which rates the life expectancy of the tire treads.
Drivetrain: Depending on whether you drive a front-wheel drive, rear-wheel drive, or all-wheel drive vehicle, your tires will wear out at varying rates, due to how these systems power wheels differently.
Road conditions: Your tires will have to work harder if they experience routine snow, salt, ice, or rain in Ridgewood. Driving through gravel, construction, or off-roading conditions also wears them out faster.
Terrain: Driving uphill in Jersey City creates more friction and therefore more wear than cruising on flat surfaces.
Driving habits: Excessive speeding and braking will wear tires faster than coasting through Fort Lee.
Tire Care Tips For Long-Lasting Tires
Following your recommended service schedule will help prolong the life and performance of your wheels. Be sure to stay up to date on:
Checking for proper air pressure, as your PSI can fluctuate depending on the temperature.
Regularly inspecting tire tread depth for tire tread wear.
Rotating your tires at your certified Jaguar tire center.
Take Care of Your Tires at Jaguar Paramus
For exceptional tire care and Jaguar service, schedule an appointment with the experienced technicians at Jaguar Paramus. Our team understands your vehicle inside and out, and can provide the answers and guidance you need to keep your Jaguar and its tires last for miles to come. Check out our latest service specials to save even more during your visit, and contact us to get started!
More from Jaguar Paramus
The 2023 Jaguar I-PACE price structure starts at $71,300* for new models, and in fact, this model is currently only offered in one trim level. For the cost, you get an excellent Jaguar warranty, a great selection of standard features for your Ridgewood drives, and an impressive electric driving range! All of this adds up…

If you're in the market for a reliable and luxurious SUV with plenty of towing power around Ridgewood, it's worth checking out the 2022 Jaguar F-PACE towing capacity. The Jaguar F-PACE towing capacity is rated at 5,291 pounds, providing plenty of power to tow anything from a small boat to a camper. Let's take…

The 2023 Jaguar I-PACE has an impressive range and a powerful set of electric motors, but these are not the only reasons that it's proved so popular with discerning drivers in Paramus, NJ. As soon as you step into the 2023 Jaguar I-PACE interior, you'll see exactly why this high-end luxury EV has made…